Plough Book Sales
Vintage Machinery Collection
---
Home | Contents Page (Catalogue) | What's New | Links | Information Pages | Miscellaneous Equipment | Order Form
---
Some items of interest from our collection.
Don't waste your time asking if any of these are for sale, but I am interested in finding more literature and parts on some of these items.
---
1923 Ruston No. 6 Steam Shovel
Boiler, Boom and Dipper

| | |
| --- | --- |
| | |
Unloading the main body.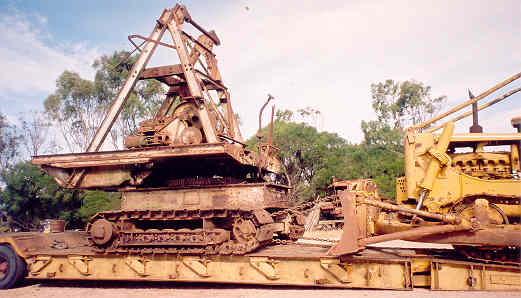 Ruston No. 6 Navvy, Steam Shovel. Serial number 818. This machine was despatched to Ruston's depot in Melbourne on the 23rd October 1923.
This machine had spent a long time on the side of a road before being rescued for preservation. Most of the brass work (fittings and bearings) and most other easily removed components have gone missing, but what remains are mostly in usable condition.
---
1927 Ruston No. 6 Steam Shovel
Boiler, Track Frame and Top deck ready to travel to Victoria

Bucket

Gear, Crankshaft and Bucket Pulley

Winch Drum

Tracks and Dipper Arms

44 Gallon Drums.
3 drums contains track plates,
the rest contain brass work,
a small weir boiler feed pump,
and other parts.
Ruston No. 6 Steam Shovel. This unit was despatched to Sydney on the 22nd of January 1927. Serial number 1128.
It was one of three No. 6 shovels that were used at the Mount Morgan mine, and it was later use at a gravel put near Rockhampton before being rescued for preservation. The machine is basically complete but a lot of the components are that badly rusted that they would only serve as patterns.
---
Ruston Bucyrus 10RB dragline
---
Ruston Bucyrus 19RB Crane, Dragline, Pile Driver
19RB Crane/Dragline, we also got some piling equipment with this one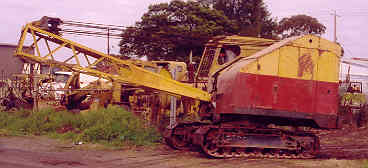 ---
Ruston Bucyrus 22RB Shovel
Ruston Bucyrus 22RB face shovel with Ruston Hornsby 4YE water cooled diesel engine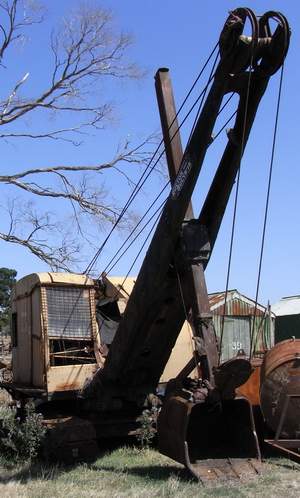 ---
Ruston Bucyrus 22RB Shovel
Ruston Bucyrus 22RB face shovel. Fitted with the Ruston Hornsby 6YDA air cooled diesel engine.
---
Komatsu Bucyrus 22KB Shovel
Derelict Komatsu built 22KB face shovel. Note the tracks laying beside the machine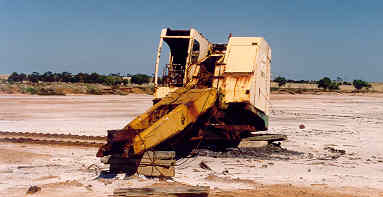 After getting the engine running and a large length of cable and a number of pulley blocks it was able to winch the machine to solid ground under its own power, skidding along on the track frame.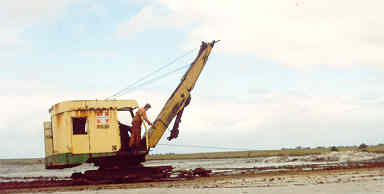 ---
Bucyrus Erie 15B
This unit is fitted with a 4 cylinder Gardner Engine, it also has a home made cabin.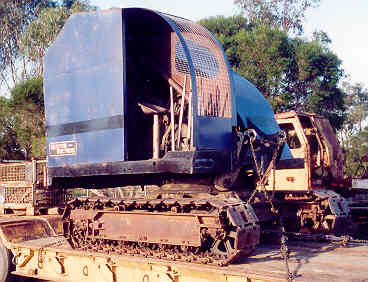 ---
Harman built 15B
Harman built 15B back actor (backhoe)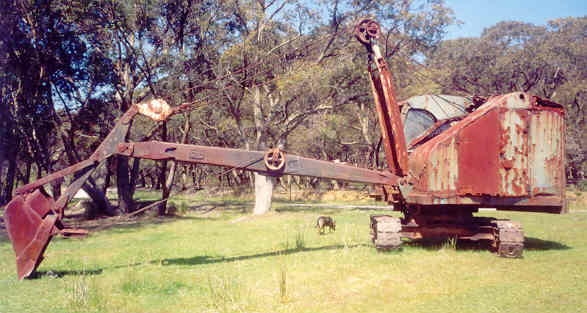 15B Manfactuted By Harman on the counter weight

15 ton Harman 15B, dragline boom, pile driving leader and hammer, spare buckets, etc. being transported

Harman in Melbourne built the Bucyrus Erie 15B machines under licence from Ruston Bucyrus
---
15 Ton Harman Dragline
Harman's own design dragline. Fitted with a 4 cylinder petrol start International Harvester diesel engine
---
Harman KL225 Face Shovel
Harman KL225 shovel at clearing sale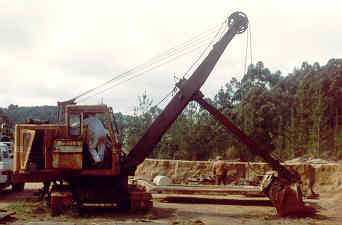 KL225 being transported.

This unit has a GM 3-71 Diesel engine and torque converter. It also has air controls. It weighs about 25 tons.
---
Kockum KL250 draglines
Kockum KL250 dragline number 79A-06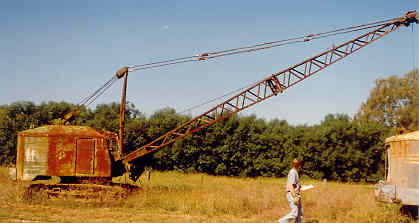 Landsverk L-77 (Kockum KL250) draglines number L-77-53A-09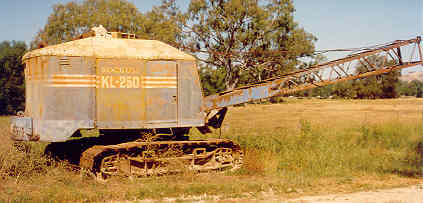 These two machines were some of the last built by Harman after Kockum took over. They are fitted with Scania diesel engines, and have full air controls.
---
Jaques J15 dragline
Jaques J15 dragline

| | |
| --- | --- |
| | |
Small 10 ton Jaques dragline, which was based on the Ruston Bucyrus 10RB. This unit has been repowered with a GM 2-71 diesel engine. These machines normally had Lister JP3, or International Diesel Engines.
---
Priestman Cub dragline
Preistman Cub and 1 ton drop ball squashing old car bodies at the Geelong Vintage Rally

| | |
| --- | --- |
| | |
This Preistman Cub Dragline/Crane is fitted with a 3 cylinder Ruston Hornsby air cooled diesel engine (which is made in India).
---
Lima 802 crane
Lima 802 Dragline/Crane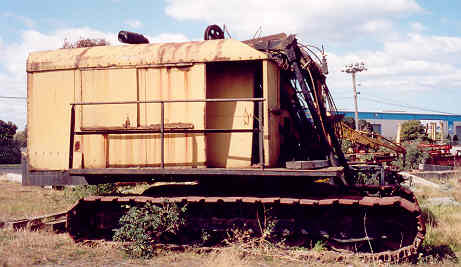 Built in 1949, original sold to Tasmania Hydro as a face shovel. This machine was last used as a crane for pile driving work. Weighs about 67 tons, powered by a GM 6-71 diesel engine. Has full air controls. Although not fitted now, this unit originally had a Kohler 1.5kW type EH 110 Volt generating set mounted on the front right side of the cab to run the lights
Lime 802 on tansport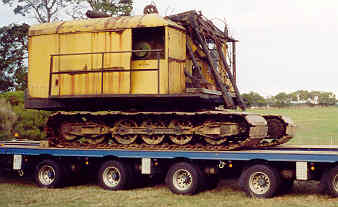 Lima 802 being unloaded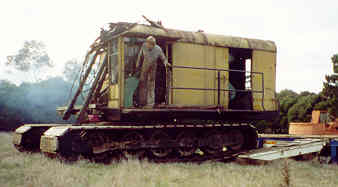 ---
O&K Face Shovel
O&K RH9 loading gravel

| | |
| --- | --- |
| | |
O&K RH9 hydraulic face shovel. Year 1976. Weighs about 25 tons
---
Gradall Excavator
Gradall Truck mounted excavator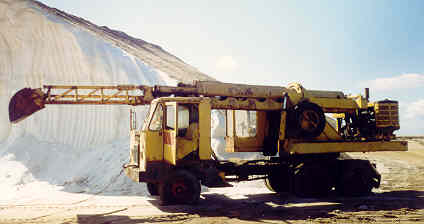 These units have a telescopic boom, and the cradle the book is mounted in has a limited amount of roll which enable the bucket to be tilted. Note that this machine is also fitted with a long reach extension on the end of the boom.
---
Britstand Trailing Ripper
Britstand Ripper, a light trailing ripper, uses a rope attached to engage the drive operated from the rotating wheels to raise the ripper, and another rope to pull the leaver to lower the rippers.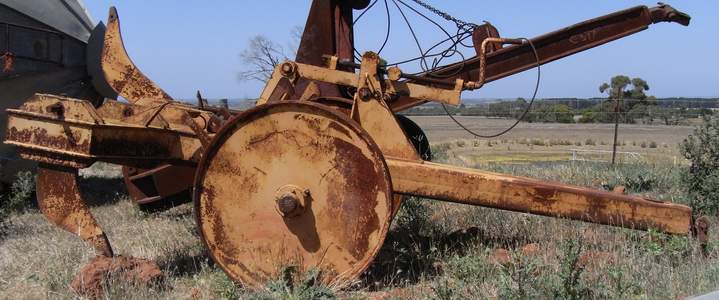 ---
A.B. Campbell & Sons Ripper
The name is welded onto the chassis
Campbell I.S.A.S. Ripper No. 3-231
Built by A.B. Campbell & Sons
Gloucester N.S.W.
Serial 403 C.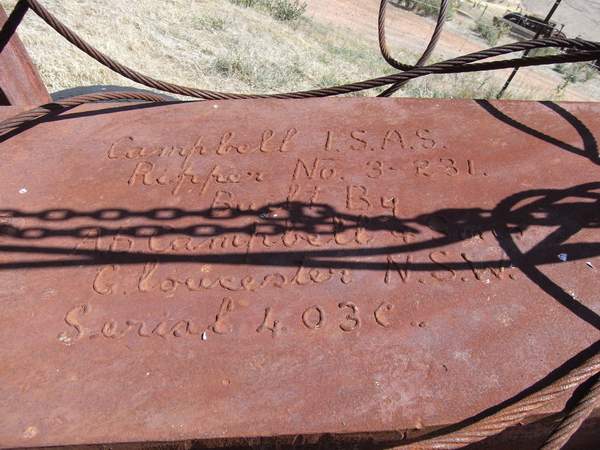 This unit has had the original steel wheels removed and replaced with truck tyres. It has had more ripper tyne slots added so that extra light rippers tynes cab be added, probably for use as a stick rake. The cables are attached to the Power Control Unit (winch) on the Bulldozer, and are used to raise the ripper
A.B. Cambell made this units in the 1950s, and ceased trading in the 1970s. I spoke to Andy Campbell who used to own the factory. He said that they had a works party every time another hundred rippers were made, and he said "we had a few of them".
This unit is a model 403 which is a 4 ton 3 tyne ripper
If any one has any information/literature on this company, I would be interested, please contact Stephen Larcombe at Plough Book Sales.
---
Massey Harris 102 Senior Crane
The Massey Harris 102 Senior tractor that this crane was based on was built in about 1943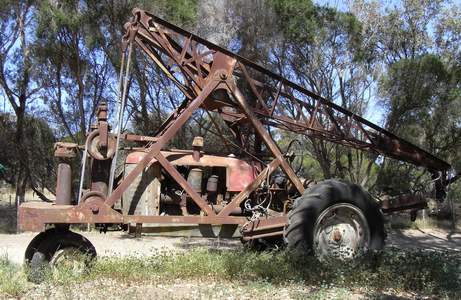 ---
Wabco Crane
Wabco crane, ready for transport

This crane is suppose to be the old Yard Crane from Wabco's factory in Sydney. It is a Letournea Westinghouse scraper front end attached to an A-frame trailor and boom assembly. Powered by a GM 3-71 two-stroke diesel engine.
---
McDonald HF Roller
This was McDonalds first hydraulic driven three point roller. It was supplied to Geelong West City Council in 1953. It weighed 4 to 5 ton deadweight, and powered by a Holden car engine. It is the only one of this type made.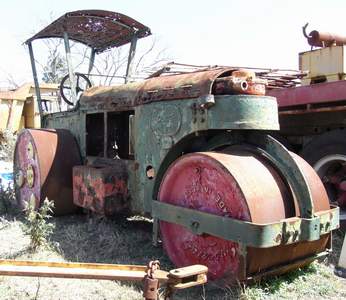 The holden engine (power unit) was connected by a short splined shaft to two Raymond Hydraulics, hydraulic pumps. The hydraulic pumps were built in a "twin pack" form. One pump drove the hydraulic motor for the left wheel, and the other pump drove the hydraulic motor on the right wheel
Raymond Hydraulics were based in Oakleigh, Melbourne, and designed and built a range of vane type hydraulic pumps/motors sets for use as variable speed drives.
Cross section view of the Raymond Hydraulics, Hydraulic Motor, sowing speed/direction control valve, and pressure control spring.
Note: if the pump is overloaded the pressure control spring will bring the pump back to neutral.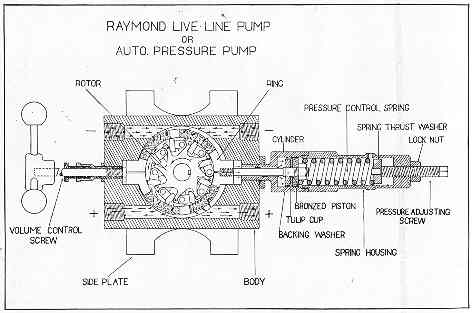 Close up view of the rotor and spring loaded swinging hinged vanes. Note the ring around the rotor, its position, left or right of centre will alter the direction of oil flow, and quantity of oil flow.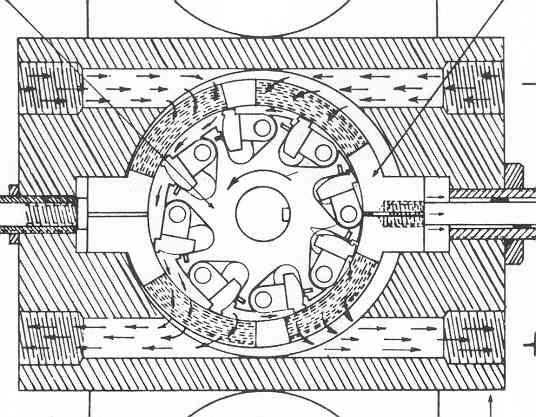 Hydraulic Motor showing the swinging, hinged blades and direction of oil flow. Note that these motors can also run in reverse, albiet with slightly less effeciency.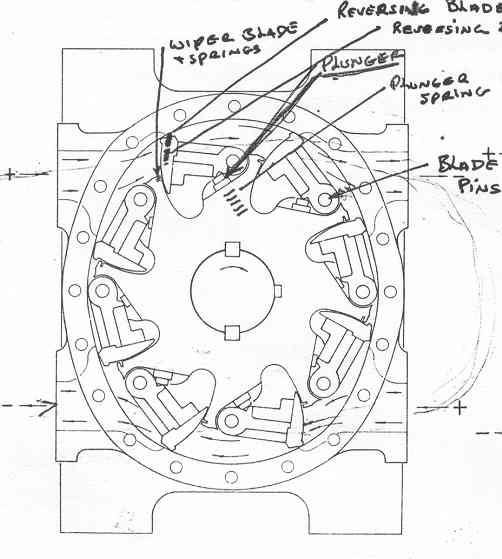 Cover page of the Rayment Hydraulics specification sheet/instructions sheet.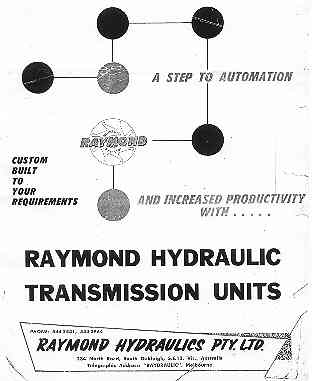 ---
Jaques 16x10 stone crusher
Jaques Stone crusher set up with Perkins P3/torque convert power pack.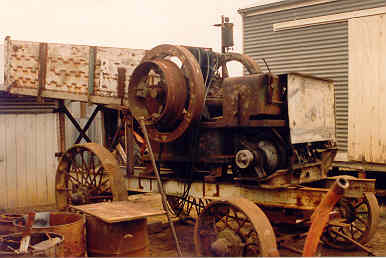 Jaques made quite a few of these single toggle crushers. The size (16x10) is the feed opening at the top of the jaws. The crusher will comfortable handle 10 inch rocks, and produce anything from 3" to 1" minus crushed rock, depending on the setting.
The wheels are from the original crusher, but all the wooden chassis was beyond use, and has been replaced with steel.
---
Ruwolt 16x9½ stone crusher
Ruwolt Double Toggle crusher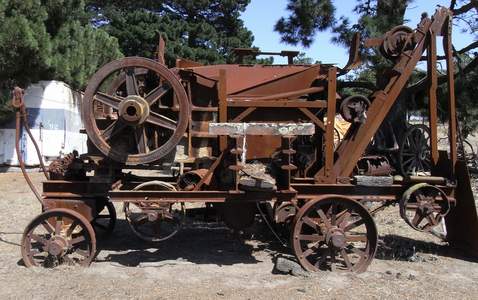 Ruwolt made stone crushers in Melboune, and unlike Jaques, they made double toggle crushers. In the Jaques single toggle crusher, the movable crusher jaw was suspened from the main drive cam shaft. The double toggle crusher had the Jaw suspened from its own shaft, the drive/cam shaft was mounted behind it and operated two toggle plates to drive the jaw.
Apparently the motion of a jaw on a double toggle crusher makes it more suitable for use with harder rocks like quartz.
Note that this crusher has a small feed shute and grizzly, and a drive arrangement to operate a bucket belt to remove crushed rock.
---
Malcolm Moore Fordson E27N based Mechanical grader
Malcolm Moore mechanical grader built in a Fordson 1945 E27N Tractor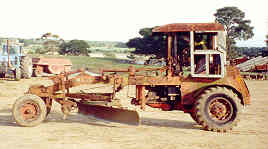 This grader was originaly owned by Bannockburn Shire Council, and then later Newtown-Chilwell Shire before passing into private ownership. The movement of the blade and scarifier are achieved by the use of long screwthreads operated from a control gear box driven from the tractor belt pulley.
---
Fowler Marhsall crawler (with wide track plates)
Cheetham Salt has quite a large number of these Fowler Marshall crawlers, and fitted some of them with these wide plates.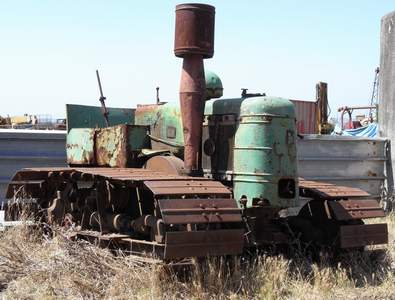 ---
Fowler Marshall logging winch
Parts of a logging winch to fit onto a Fowler Marhsall crawler.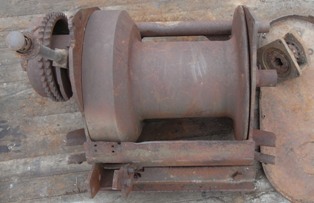 This logging winch is driven by a chain from a sprocket fitted onto the side of the gearbox in place of PTO. This winch is not very complete, and has had a hard life.
Note: the chain gaurd does not belong with this winch.
---
Britstand Logging Winch for Oliver DDH dozer
Britstand logging winch to suit an Oliver DDH dozer. Note the right picture is a chart that is attached to the side of the winch, it gives the volume of the log, from its dimensions.

| | |
| --- | --- |
| | |
This is a logging winch for an Oliver DDH crawler tractor, it appears to be brand new, with no damage or scratches, even the brass plate on the side is scratch free.
It has however, spent too much time sitting in dirt, and is a little rusty on the face that bolts on to the tractor, and is also missing the drive shaft that goes inside the gearbox, the mounting arms that go either side of the gearbox, and the control levers.
---
IHC TD18A dozer
International Harvester TD18A dozer. Fitted with a 6 cylinder petrol start diesel engine. This one has a distributor instead of a magneto for the petrol start system.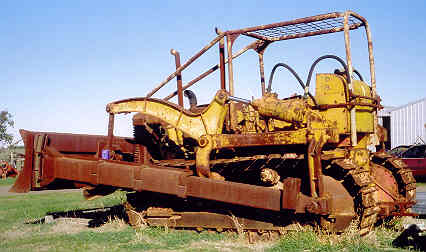 ---
Matilda tank converted to a bulldozer
World War II era, ex Australian Army Matilda Tank, converted to a Bulldozer.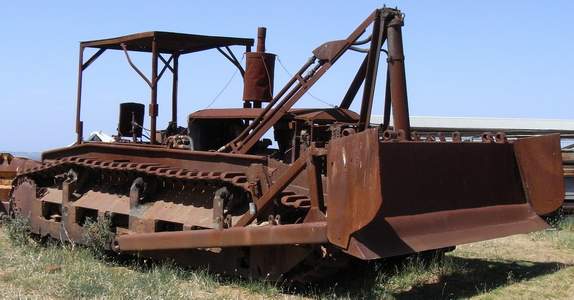 This Matilda tank has had many significant modifications when it was converted to a dozer.
The modifications include:
Home made blade
The trunions for the blade were made from cannon barrells
The trunion caps were cannon barrell counterweights
The top skid bars for the tracks have been replaced with rollers
Excess armer has been removed
Plough disks and scraper bars have been attached to the sprocket drive to stop sand entering the final drive seals.
The original Wilson Power Shift transmission has had some the the spacer planetarys replaced with cogs. Some of the planetary gears had two planet cogs and two spacer blocks. The two cogs sometimes broke, but with 4 planet cogs there were no further problems.
The fuel tank is from a General Grant tank
The canopy is made from Bren Gun Carrier axles
The engine is half a GM 6-71 twin pack engine set (still with transfer case) from a Gernal Grant tank.
The second engine has been replaced with the hydraulic pump
The hydraulic ram was home made
---
Vickers Bulldozers
Vickers Vigor torque converter dozer with hydraulic blade, and some parts, on a 20 foot container base being transported from overseas (well over Bass Straight, from Tasmania).

| | |
| --- | --- |
| | |
Vickers VR180 with cable blade working cleaning out a water hole. Note the old Allis Chalmers HD11B in the background

| | |
| --- | --- |
| | |
Vickers Vigor, direct drive model (left), and wreck on the right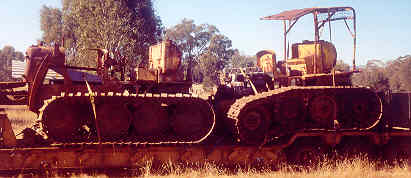 Vickers VR180 (right), originally fitted with rear PCU and cable running along the side of the dozer to the front. The previous owner started fitting a front mounted PCU. Also vickers wreck on the right

Vickers VR180 fitted with a hydraulic blade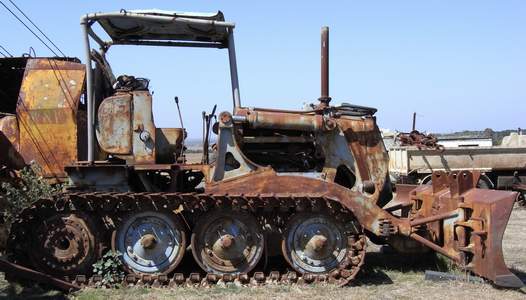 ---
Letourneau Westinghouse LW30 (LW18) dump truck
This is one of the very first LW30 dump truck made by LeTourneau Westinghouse in Sydney. The model was later renamed LW18, 18 ton being the carrying capacity, instead of the gross weight of 30 ton. These trucks were fitted with a GM 6-71 diesel engine and direct drive 5 speed gear box. These dumpers had two 2-stage bidirectional hydraulic rams to raise the dumper body and pull it back down after it goes over centre.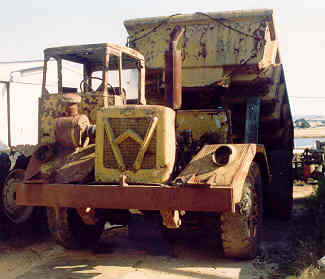 ---
Wabco LW20 dump truck
A later version of the LW18 dump truck, the same basic layout is used, but this one is fitted with a Road Ranger gearbox and a more modern shaped dumper body. The dumper hoist rams on this model were similar to the LW18, except that only the first stage of the rams were bidirectional.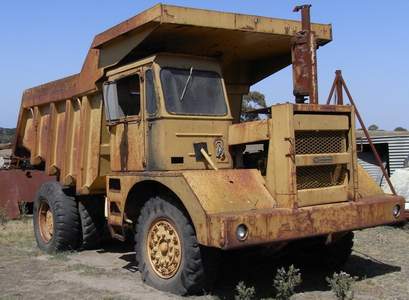 ---
Field Marshall Series 3
Series 3 Field Marhall, fitted with steel wheels, needs a lot of repairs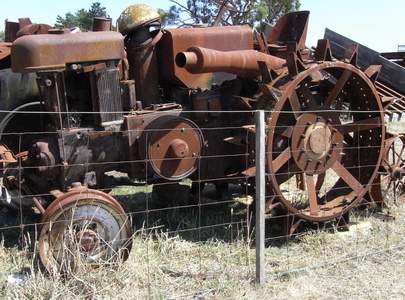 ---
HSCS
HSCS G35 as found in a Condobolin scrap yard.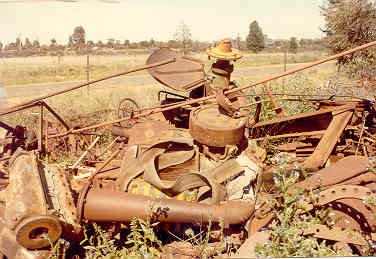 This tractor had a few problems, which included:
Exhaust broken in half - it was welded back together
Front axle missing - a Field Marshall one was converted a fitted
Front domed casting broken and piece missing at the top - a new missing piece was cast and welded in
Top of water tank was broken and pieces missing - it was welded up
Radiator cap missing - new one was cast from the fuel cap
Fan was broken and bearing support smashed - still the case, unless it is working hard, it does not need that much cooling
Steering wheel broken from spokes - repaired by welding
Steering column broken from top of gear box - repaired by welding
Engine siezed - repaired with a block of wood and sledge hammer
Mud guard damaged - repaired by panel beater
PTO missing and drive box damaged - welded drive box up and sealed with plates
Seat missing, spring from under seat missing
Clutch brake missing friction material
Tow Bar missing
Back wheels missing - Field Marshal rims are a perfect fit
check valve balls missing from injector pump
Head cracked around hold down bolts - got another head
The tractor is now in operating order
Another G35. This neglected tractor is suppose to be in very good order. I was told that the agent was not able to sell this tractor when new, and it was only used as a demonstration tractor. This is probably believable as it still has what appears to be original paint on the top of the exhaust.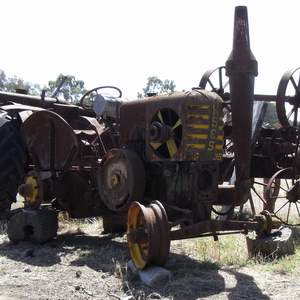 R30-35, these were the first model of HSCS to come to Australia after the war. They were later followed by the G35. Both models had what appears to be the same block, gearbox and differential layout. The G30-35 had different panelling, 6 studs instead of (4 studs like the G35) to hold the head with, they had a water pump (unlike the G35 which relied on thermo-syphon), and they had one bank of radiator panels like the Lanz Bulldog, instead of the centre conventional radiator like the G35.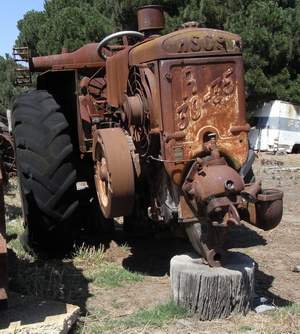 Another R30-35 being winched onto the truck. Apart from the missing front axle, this machine is otherwise complete, it even cam with the original blow lamp.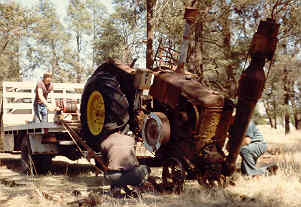 ---
Lanz N model, 1949
This Lanz Bulldog N Model was built in 1949. It has been fitted with a Lanz 6 volt lighting system by the Lanz service man in the mid 1960s. Seen here with a load of wood on a Malcolm Moore tipping trailer. The trailer users a hand winch and cables threaded through the front A-frame to tip.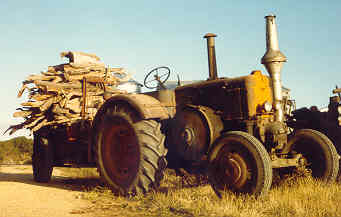 ---
Massey Harris 101 Junior
Massey Harris 101 Junior Tractor
---
Muir Hill 161
Two Muir Hill 161 tractors being transported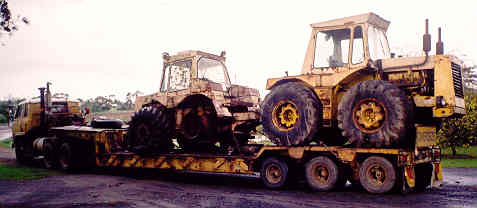 Muir-Hill started building machines that were converted from Fordson Tractors in the 1920's
By the 1970's Muir Hill were building tractors like these.
Fitted with a Perkins V8.510 diesel engine, 185 horse power and a Road Ranger RT.610 close ratio 10 speed gear box, giving speeds between 2.3 and 20.6 miles per hour.
Muir-Hill built their own transfer case and axles (of double reduction planetary types). They also built the chassis, cab, etc.
It only steers on the front axle, but has surprisingly good steering lock, 33 feet turning circle full lock, and 20 feet turning circle with brake assistance.
Weighs 5,443 kg without extra ballast, and 10,886 kg when fully ballasted (using larger tyres sizes).
---
Nasco Gas Producer
Nasco Charcoal Gas Producer fuel plant used during WWII to power a Ford truck. When this unit was collected, it was still sitting where it was taken off the running board of the truck after the war and still half full of charcoal. Unfortunately it is somewhat rusted out.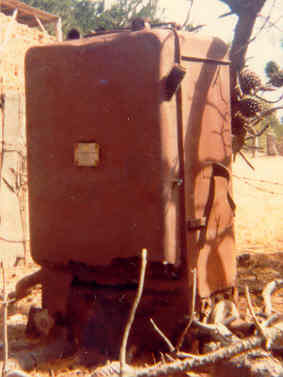 ---
Dunlite 750 Watt wind light
Dunlite windlight set up for indoor display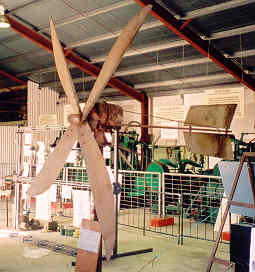 Manufactured by Dunlite in South Australia between 1937 and 1967.
Out of the large range of windlights manufactured by Dunlite, this is the only one that has 4 blades.
This wind generator was used to charge batteries for a home lighting plant.
It is normally mounted on a 40 foot high Southern Cross farm pumping windmill type tower.
32 Volts DC output, 750 Watt capacity
There is a small regulator used to control the charging of the batteries, the rate of charging is controlled manually by adjusting the position of the tail. In light winds, the tail should be set to direct the blades directly into the wind, and in heavier winds, the tail is adjusted to pull the blades slightly out of the wind, and thus slowing the speed, and hence charging rate.
---
Ronaldson Tippett 35 hp diesel engine
Ronaldson Tippett 35 hp diesel engine. Based on a Campbell Gas Engine. These pictures shows the dismantled engine shed and rescure of the engine from the Murray River bank near Moama. The engine is now operating, and on display at the Geelong Show Grounds

| | |
| --- | --- |
| | |
---
Ruston Hornsby 3VCB diesel engine
Ruston Hornsby 3 Cylinder diesel industrial engine.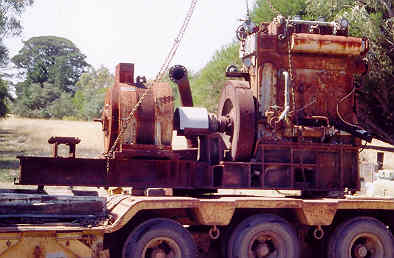 The makers plate on this engine indicates that it was made under licence from Ruston Hornsby by the Maribynong Ordance Factory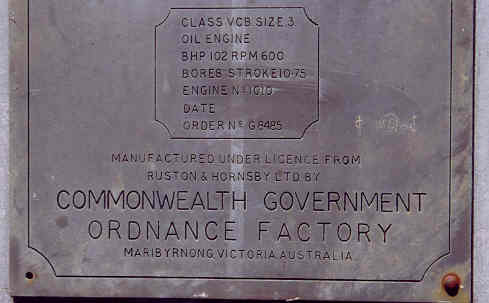 ---
Ruston Hornsby 6VCB diesel engine
Showing the original location of the engine, and the door that it was squeazed through after jack hammering the concrete mounting block away, lifting the false floor, and removing some of the oilers above the rocker covers.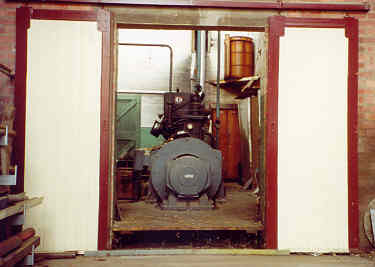 This petrol engine driven air compressor and air tank are used to start the engine with.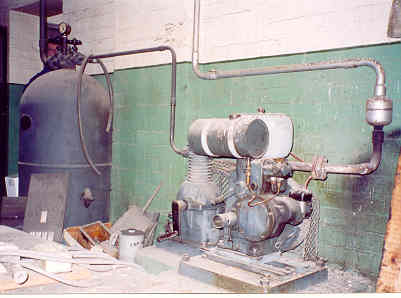 Another picture of the engine in its original locations. The engine on its own, without the flywheel weighs 7.1 ton.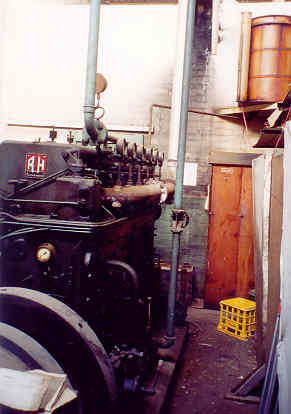 Looking towards the door that the engine was removed through (it does not look that big from this angle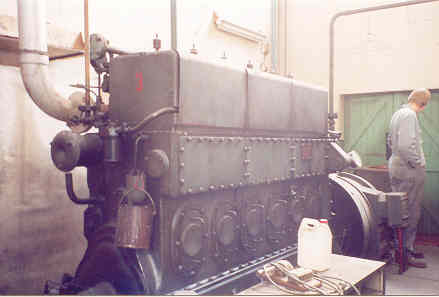 Engine ready to be transported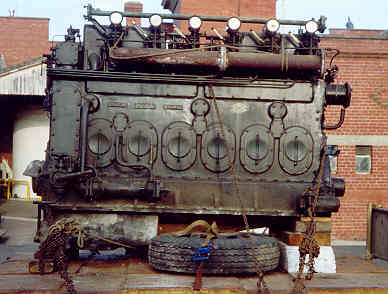 ---
Kelvin K4 marine engine
Kelvin Marine engine. 4 Cylinder diesel with marine reversing gearbox. Made on the early 1950's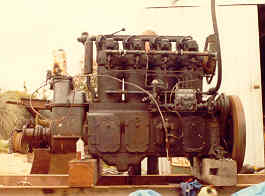 ---
Amplion engine
Amplion Model I Engine, an Australian copy of a Briggs and Stratton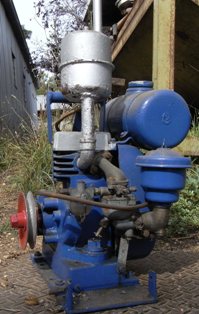 ---
Johnson Chore Horse Generating sets
Jonson Chore Horse Generating set with a protective frame

| | |
| --- | --- |
| | |
Another variation of the Johnson generating set.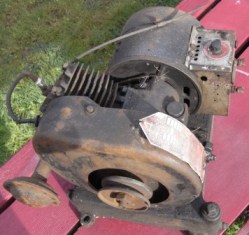 These little generators were based on the same engine that was sold as a Cooper RV or RVE engine. The engines were either started with a rope, or by pressing a button, and using the generator as a starter motor.
Specifications
4 Cycle
Type CH1
12V DC
300 Watt
25 Amp
2200 rpm
Made by Johnson Motors, Peterboro, Canada
---
Sachs Aircooled Wankel Engine
Model KM37 with a recoil starter, the pump has been removed.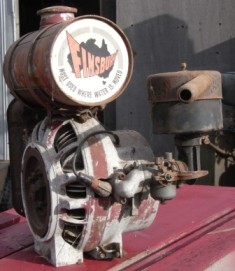 Model KM48 with a rope starter, complete with water pump.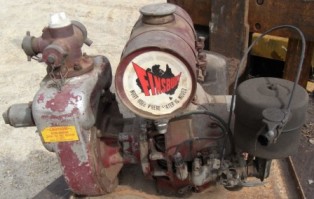 These Sachs air-cooled wankel engines were sold by Finsbury as water pump engines, with direct coupled water pumps.
These engines were 4-stroke engines, but still required oil to be mixted with the petrol, like a 2-stroke engine. This was a result of difficulty in cooling the rotating piston in the rotary engine, which was easy enough with water cooled engines, but became a problem with air cooled engines. The answer was to cool the piston with the fuel before it entered the cumbustion chamber.
---
Ingersoll Rand Spot-Air Model 3R-36 Air Compressor
Ingersoll Rand Spot-Air air compressor

| | |
| --- | --- |
| | |
Specifications
Pressure: 80 psi
Capacity: 36 cfm
Weight: 120 kg
Bore of air cylinder: 3"
Bore of Engine Cyldinder: 31/8"
Working Speed: 1400 rpm
These compact air compressors built built by Ingersoll Rand in the 1960s.
They were similar in arrangement to a radial aircraft engine laying on its back. But with 6 cylinders, alternating between compressor cylinder and petrol engine cylinder.
They were popular as a portable air compressor, especially with the railways.
There is suppose to be a light pipe frame with a wheel burrow wheel, and handles that the compressor pins onto for on-site transport. Does any one know where one of these frames might be?
Starting was by means of a rope starter on the side.
---
Southern Cross Air Compressor
Southern Cross air compressor and transporter

| | |
| --- | --- |
| | |
Southern Cross air compressor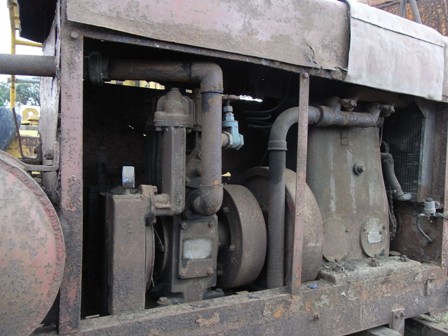 Specifications
Southern Cross Engine

Mark YE
1000 RPM
15.3 BHP
Engine No. 6497
Year, about 1938

Holman Compressor

Serial number 7633
Symbol AT8S
Size 6 1/2 x 5 x 4 1/4

The transporter has CP (for Consolidated Pneumatics) on the hubs
---
Pump Jack
Rocking beam type pump jack

| | |
| --- | --- |
| | |
Not sure what make this beam pump jack is, it could be an Alston. Some of the components do not look like they were original, and it has some evidence of modifications. The counterbalance weight should hang from the left end of the beam.
---
Industrial locomotive
Cheetham Salt made these small locos to haul side tipping skips along temporary rails through the salt pans during salt harvest.
This photos shows the locomotive with a cabin fitted.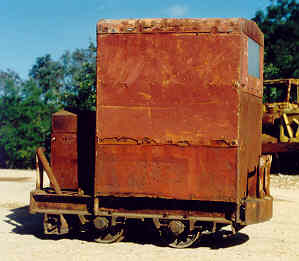 This shows the locomotive without the cab. The locomotive was powered by a Ford Prefect car engine, with the car gear box, and then a right angle drive reversing gear box that drove the back axle by a chain. The back axle drove the front axle by another chain.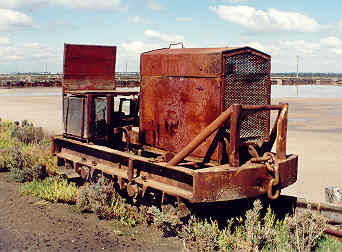 The locomotive doing a test run

| | |
| --- | --- |
| | |
---
Dake Square Piston Engine and winch
Dake Square Piston Engine

| | |
| --- | --- |
| | |
Dake Square Piston Engines Parts List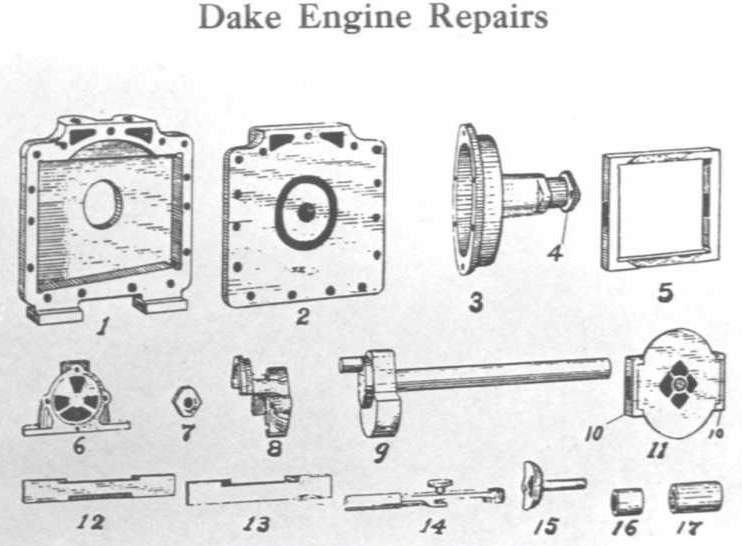 The engine consists of a rectangular chamber formed by parts 1 and 2 in the above diagram.
A square ring (part 5) can move left and right inside this chamber
The revere side of part 11 (which is item 10) a rectangular block can move up and down inside the sqaure ring (part 5)
This can some how make a rotary motion on crank pin (part 9)
Parts 6, 7 and 8 form the forward and reverse valve on top of the engine, and directs seems into the chamber
The engine would have a very low efficiency, with some amount of internal leakage around the sides of the piston, but it is compact and easy to control.
These engines have been operated with steam and compressed air, and used to drive small winches, chainblocks, pumps, and even the power steering on large traction engines.
---
Buffalo Pitts Traction Engine
Single cylinder 15 hp Buffalo Pitts traction engine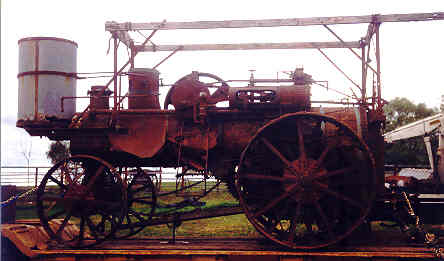 ---
Home | Contents Page (Catalogue) | What's New | Links | Information Pages | Miscellaneous Equipment | Order Form
---
Plough Book Sales, P.O. Box 14, Belmont, Vic. 3216, Australia
Phone: 03 52661262 (International +61 3 52661262)
FAX: 03 52662180 (International +61 3 52662180)
E-mail: stephen@ploughbooksales.com.au


© 2010, Plough Book Sales