Stephen Larcombe
Low Loader Hire in the Geelong Area
Moving a Hydraulic Excavator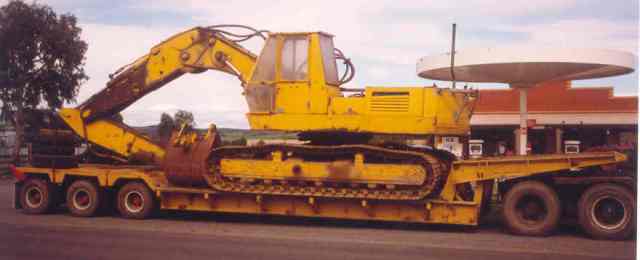 Tri-axle Steco Low Loader, with Tandem drive UD prime-mover
Carrying capacity up to 30 tonnes
Out-riggers for wide loads
Folding goose neck trailer - for easy loading
Heavy duty winch - for loading derelict machinery
Based in the Geelong area
Contact Stephen Larcombe for a quote or to make an enquiry:
Stephen Larcombe
P.O. Box 14, Belmont, Vic. 3216, Australia
415 Reservoir Rd., Pettavel
Mobile: 0410 661356
Phone: 03 52661262
FAX: 03 52662180
E-mail: stephen@ploughbooksales.com.au


The gooseneck folds down to make a flat ramp, ideal in slippery conditions or for smooth tracked machinery. Loading a Ruston Bucyrus 19RB dragline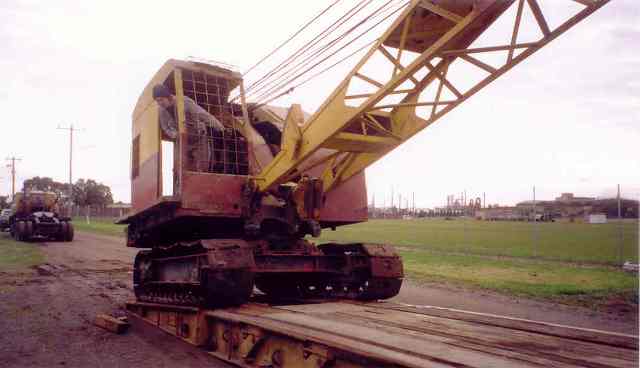 Dimensions of the trailer
Over all length 19.4 metres (41 feet)
Flat in the middle 5.74 metres (18 feet 10 inches), opening out to 6.25 metres (20 feet 6 inches)
Lowest height of the deck from ground 0.70 metres, helps to keep those high loads below the power lines
Gooseneck length 3 metres (9 feet 11 inches)
Back Deck length 3.30 metres (10 feet 10 inches)
Width 2.44 metres (8 feet)
Width with out riggers out, 3.05 metres (10 feet)
In the process of folding up the gooseneck
Winching up a 25 Tonne excavator

Finished loading the 25 Tonne excavator

Some of the jobs we have done in the past:
Draglines, Ruston Bucyrus 19RB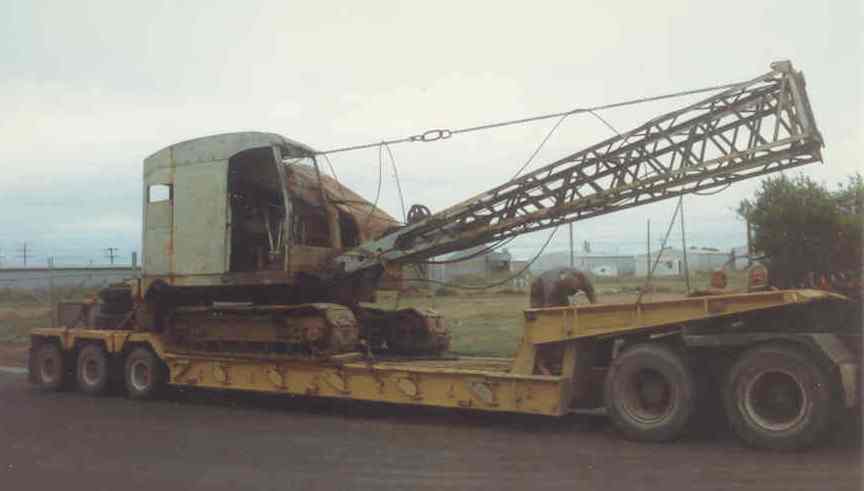 Draglines, Kockum KL250

Draglines, Harman 15 ton, there is a little too much rear overhang, suitable for off road transport only, the boom would need to be unbolted in the middle and shortened for road transport.

Hydraulic Excavator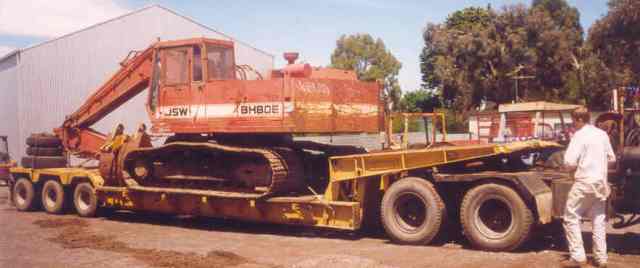 Using a jib on the truck to attach the blade to a Caterpillar D8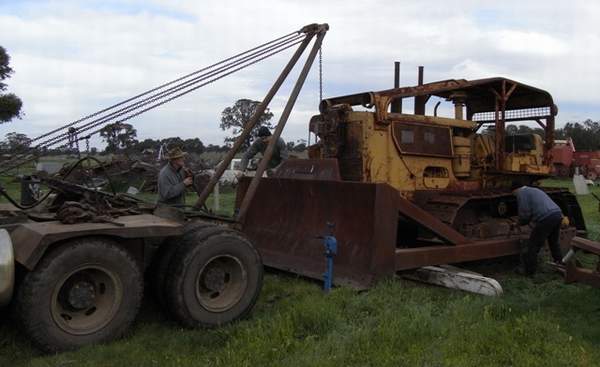 Winching up a Caterpillar D8

Caterpillar D8 Loaded
Internatonal Bulldozer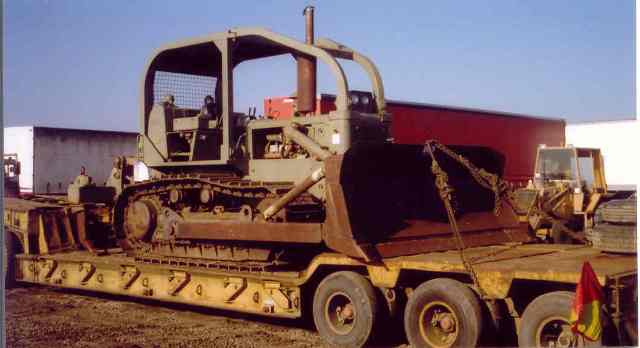 Vickers Bulldozer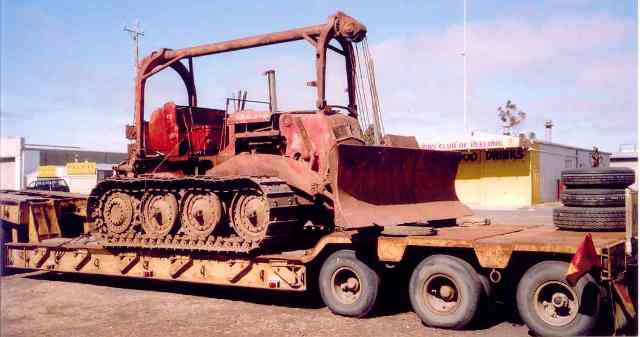 Grader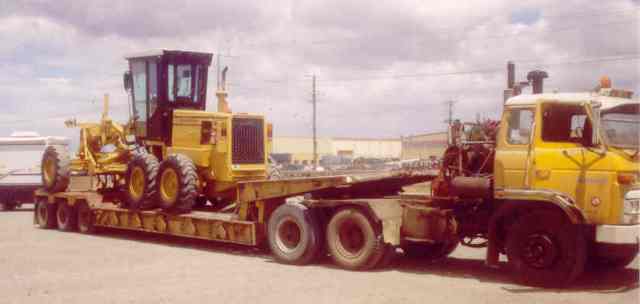 Truck Crane

Tractor Crane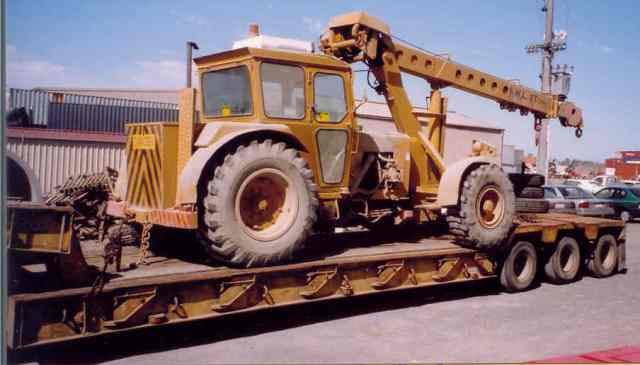 Power Screen

Boom Lifts

New Holland Header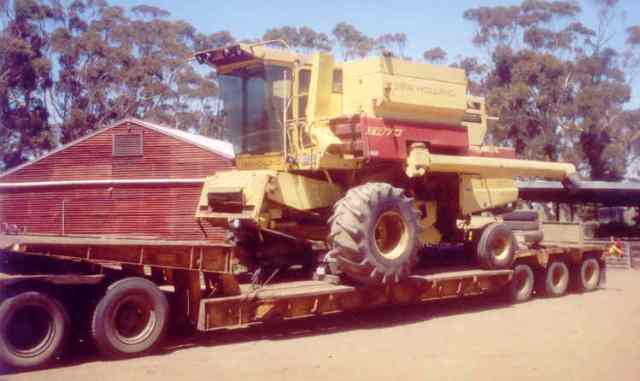 Four Wheel Drive Loader and small Forklift

Scrap Steel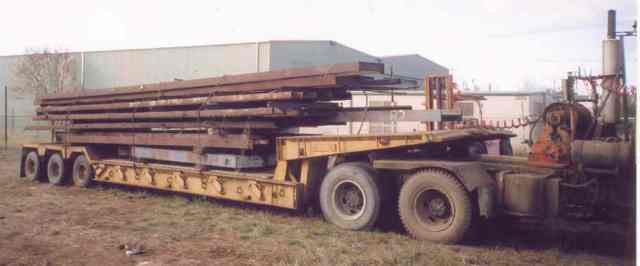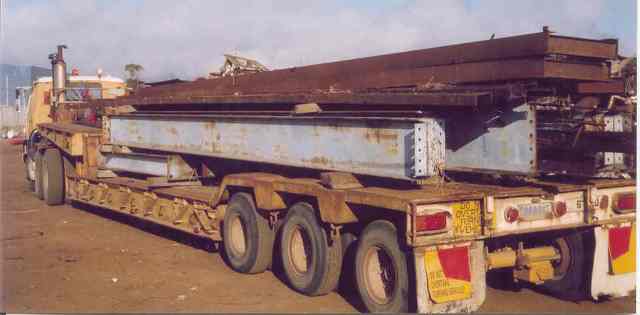 Large Tank

Anti Air Craft Gun

Farm Machinery


Milling Machines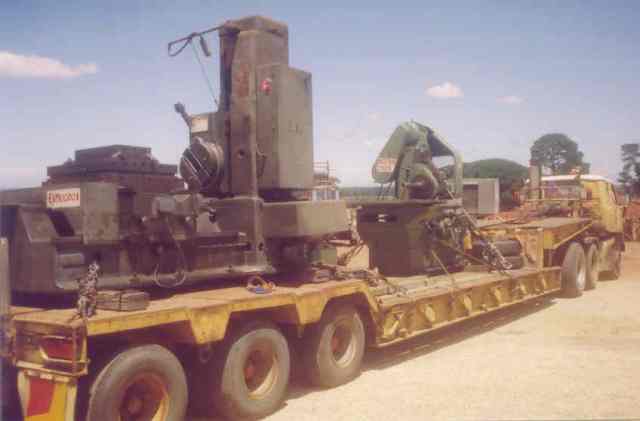 Wabco Dump Truck

Muir Hill Tractors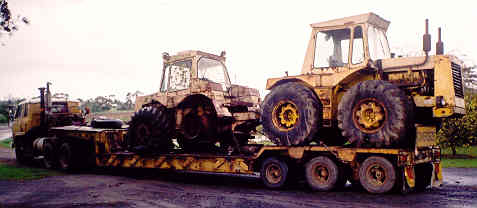 Old Cable face shovels

| | |
| --- | --- |
| | |
Harman 15B Backactor

Old Oliver DDH wrecked dozers, and the forklift that loaded them

McLaren Traction Engine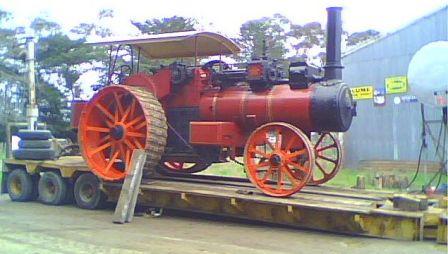 Unloading Ruston Hornsby 6VEBX diesel engine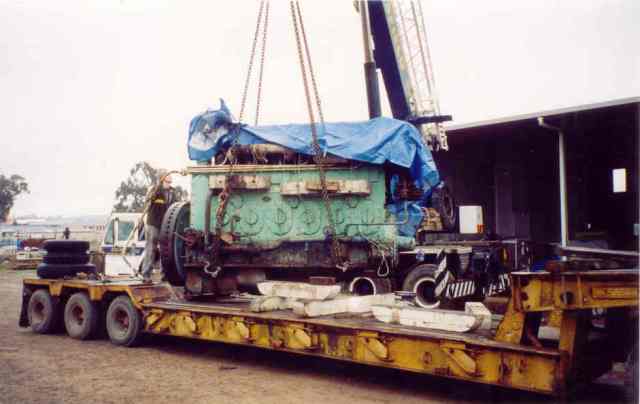 Ruston Hornsby 6VCB Diesel engine (weighing over 7 ton), and the forklift that loaded it

Unloading Ruston Hornsby 3VCB Diesel engine and forklift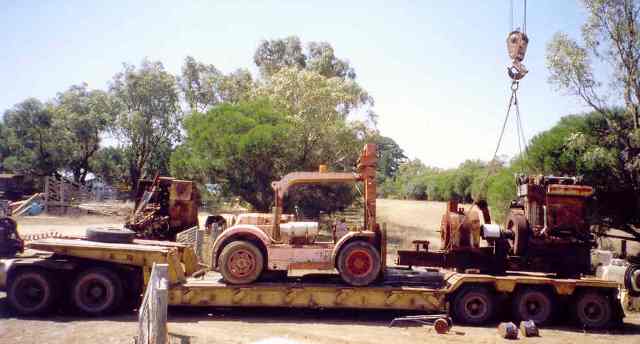 Insley/Blaw Knox excavator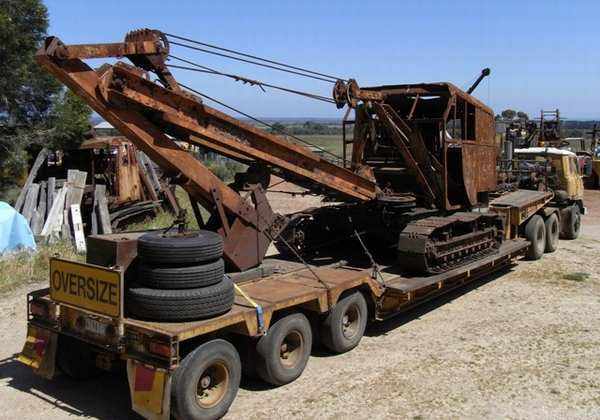 3 Old Jelbart tractors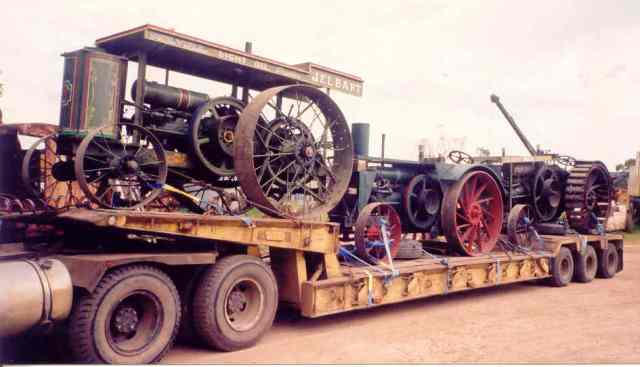 Rumely, McDonald, and Titan tractors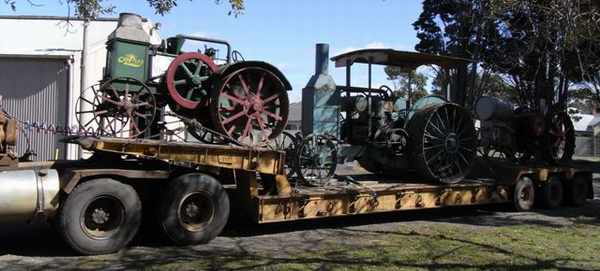 Old Portable Steam Engines

1923 Ruston Steam Shovel, being winched on (left), and towed off with the dozer (right). The shovel needed a 5 metre over height permit to transport.

| | |
| --- | --- |
| | |
Steam train

Pushing a steam loco on over temporary track, using empty rail trucks between the pushing loco, and the Steam Loco

The Loaded steam loco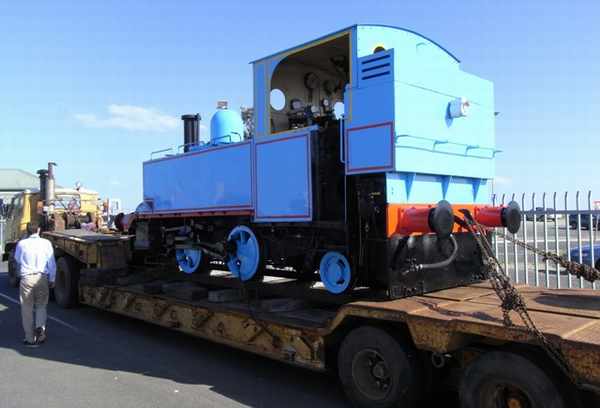 A load of what will be firewood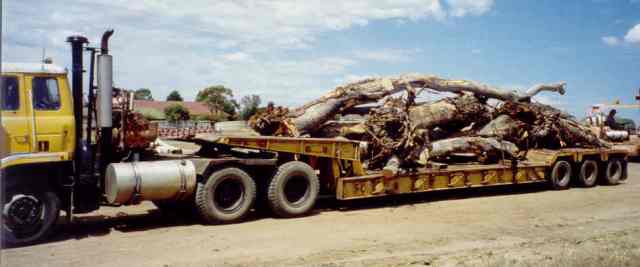 Round bales of Grass hay, old bales do not stack that neatly

Bales of wool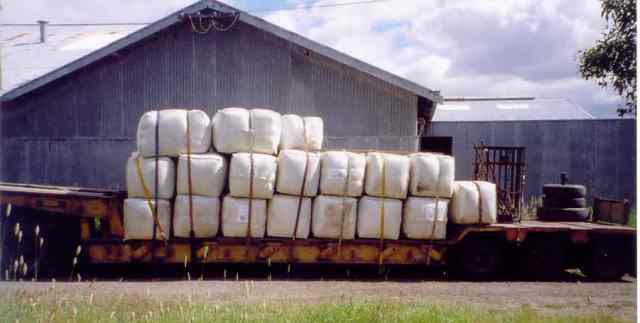 ---
Back to my other business, Plough Book Sales
Home | Contents Page (Catalogue) | What's New | Links | Information Pages | Miscellaneous Equipment | Order Form
---
Plough Book Sales, P.O. Box 14, Belmont, Vic. 3216, Australia
Phone: 03 52661262 (International +61 3 52661262)
FAX: 03 52662180 (International +61 3 52662180)
E-mail: stephen@ploughbooksales.com.au


© 2012, Plough Book Sales